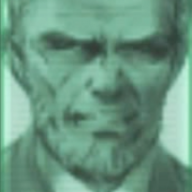 The Actual Hero
Sanctuary legend
The argument: Jacksepticeye's post is the argument here, where the implication is that people have always been this gay, it's just that widespread acceptance has led to record number of people "coming out".
The rebuttal:
There is no scientific consensus about whether people are "born gay", so there's no proof that people are just "being who they truly are". Not only that, ex-homosexual and ex-trans people exist, which couldn't be possible if they were "truly" were homosexual or trans.
We humans are social creatures and are, generally speaking, willing to conform to the behavior of others as we seek their approval. We are sheep. We follow the crowd, even when we suspect the crowd is wrong, or if it rings untrue in our heart. This, unlike the nature of homosexuality, has been
proven through repeated scientific experiment
. There are even cases of copycat suicides and copycat mass-shootings.
Many people do not think for themselves in many aspects of their life. I'm sure someone who agrees with Jacksepticeye would also accuse religious people of this same thing, that people are only religious and "bigoted" to fit in with their parents or community. They might also say that being gay is the opposite of fitting in, since you are just volunteering to be oppressed and bullied, so why would anyone ever "fake" being gay?
Again, look to the religious, who have been persecuted and killed for these "bigoted" beliefs on a scale far greater than homosexuals ever were. Why would anyone volunteer for that? Because they truly believe it. I am not accusing you, my hypothetical gay opponent, of "faking" your gayness. I am accusing you of being thoroughly fooled. You have caught a social contagion. Like they say with covid, you are infected without even knowing it.
Did you know that in societies where rape is more acceptable, more rapes happen? Wow! It's like people there are more comfortable being the rapists that they truly are, instead of having to suppress their natural urges! It's called progress, bigot!