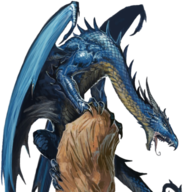 Master
Staff member
Founder
I never intended it to be this long between games, but I think I got really distracted by all the game servers we were starting and I just kinda forgot about it.
But now, no longer.
So, as many of you already know, I've been asking around the community and seeing who wants to participate. So far, we have these people interested:
@gaijinkaiju
@Battousai
@amitx7
@Houseman
@Signa
@Vendor-Lazarus
Owen (maybe)
@M0nke3
For the game rules we'll actually be running, I gave everyone a choice between D&D 3rd Edition, D&D 5th Edition, or a custom game like the one we did five (!) years ago. The custom game would be the easiet to run and to play, but it offers the least amount of gameplay freedom. D&D 5E is a step up in complexity and requires more time to learn, but offers more options, and finally, D&D 3.5E is basically 5E Advanced, giving the most gameplay freedom of all but also being the longest to learn.
Here's the final tally not including any vote for people who said they were flexible.
D&D 3.5E = 1
D&D 5E = 2
Custom Game = 1
Ehhhh... It's really close. I might make an administrative decision and have us do a custom game despite the tally just so we don't leave out Houseman since he's said he's just flat out not interested in D&D. If you're really not feeling a custom game and want D&D 5E, post about it below! If you'd rather it be a custom game, then also post below. If you don't care, don't do anything! The situation will resolve itself.