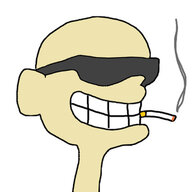 Full-time Magical Girl
Clan member
Why in the everloving fuck do publishers/devolpers/whoever-makes-these-dumbass-choices hate sites keeping old games alive?
I understand stopping newer games that they still sell and profit off, but why old games? You're not making a profit of these old ps2, gba or any old system, so why do you like to inconvenience the people trying to keep the games alive (also for archival reasons) Even if i buy a legit copy of the game, its going to be second-hand and you're not seeing a dollar of that, and god-knows I ain't paying the price some people are asking. It is kinda funny how the games no-one cares about are like $1-5 but all the 'good' or 'classics' are upwards of $30 though.
Just let people share them and keep the communities surrounding them alive, stop be annoying pricks for once. Do you know how many games are going to just be forgotten because you stop the only people keeping them alive.