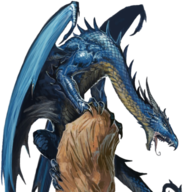 Master
Staff member
Founder
For our first foray into D&D, we're gonna take it slow and do a practice session. Just kinda slap a first level character sheet together
here.
(And before you do so, don't forget to add the OrcPub PHB source file that's in the pack
here!
You upload that source file to the site
here.
). Don't worry about writing up a background or personality or whatever at all on the sheet. Just tell me the basic appearance and attitude of the character when you give it to me. Don't worry about equipment or weapons or etc. either. The generator should give you all the things you need at level one automatically. Finally, for the attribute scores, use the point buy system. Once you've done all that, simply "print" (Hit the yellow 'Print' button.) the sheet out to download the finished sheet to your computer, and then give me a download link to it.
The submitted character sheet will be how you sign up!
Basically, the story is... Uh... You gotta rescue the mage from the evil princess who stole him away. She's doing evil and stuff. Slay that bitch and get home. Or don't. Don't take this game too seriously though. Again, this is merely a test run. The real game will be more serious and much more in-depth, world and story wise.
This is the barebones required reading:
For the Player's Handbook
- Read about your chosen race, your chosen class, and then both pages 173-174, and then 189-198.
For the included PHB modifications document
- Just read over the contents page. The contents page has everything very quickly and nicely summarized and laid out. You can look at the details for each rule further on in the document on the specified page, but it's not necessary.
-
How the forum-based version of the game will work: It will work pretty similarly to how we did it last time. Players can make as many posts as they like, but the rule is
everyone must post at least once per turn.
If for whatever reason you cannot do anything that turn, just post a simple '-' or "Pass." just so I know you're still with us.
-
I know that this game isn't exactly pick up and play, but the hard part is in the beginning by far when you're first learning everything and putting out your first character sheet. Don't worry about screwing up either! Whether with the character sheet or in play, that's what this run is for. Just have fun. If anyone needs any help, please post about it here! The game will commence in one week. Please have your character sheet submitted by then!
Last edited: