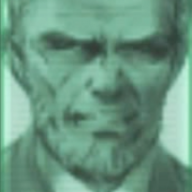 Arch Disciple
Sanctuary legend
This is all in-character, btw
Arnox said:

Question to Houseman. Why is the protagonist such a little bitch? XD Yeah this new world's weird, but he doesn't need to wet his pants about it. No one's threatening him.
You've lived a sheltered life, where, previously, your only troubles were a set of mischievous twins.
You hear a far-away voice from across the table, Someone is standing up and cupping their mouths to their hands in order to project. They appear to be yelling as loud as they can. You can hardly hear them. That's how big this table is.
The pirate lady groans loudly, and slams her book closed. With a wave of her hand, as if brushing off a fly, a hologram appears.
You can now clearly see and hear the person who is standing up, as if he is being magnified by a projector. The other figures sitting around the table are magnified as well. It's a guy with a blond buzz-cut, wearing a similar jacket. This guy's jacket looks more motorcycle than pirate.
The lady, irritated, asks him what he wants.
"Let us help with this! He's going to be joining our team, so we should all be interviewing him, right?"
"This isn't an interview. All he has to do is eat a pill and sit in the hairdryer. Trying to reason with him before that is useless, just like the last guy"
What's this about a hairdryer? What happened to the last guy? Also, is this projector magic, or what?
The lady seems to have an idea.
"Actually, you know what? Fine. Have it your way. You guys deal with this."
And then she walks out of the room. Except that before she reaches the door, a purple hole appears in the air and swallows her. The hole shrinks into nothingness afterwards. Before you can ask what that was, the blond guy explains.
"That was a portal. Everything is based on portals. Inter-dimensionals come here, and then to Earth, through portals, and our powers are based on them too. It's like weaponized space. And she told you about portal-sickness, right? That's a portal that opened up in your brain. It'll keep growing until it eats your brain out from the inside. Taking either of those pills will stop the growth, and the hairdryer, we call it that, will beam knowledge straight into your head, so that you can do what she just did, and more!"
Signa said:

C
Why you need different pills for the same function of getting through a portal is one question.
"No, it's not about getting through a portal. It's about staying alive AFTER you go through a portal. 'Cause you're dying. The pill will stop that."
Anyway. I'm going to instead ask why I should believe any word they say. For all I know, this is just a reality TV show or something. Also how do I know you all aren't actually malicious/misguided? You can't just shove me into an entirely new world and not expect me to question... Pretty much everything.
Someone sitting at the table clears his throat and sits up. He had previously been tuned out, with his feet up on the table, reading from a similar tome. He has messy, dark hair, and his coat looks similar to the lady's, but more tattered.
"Here, sit still".
After a moment, you and your chair fall through the floor. The next thing you see is the ceiling, which you instinctively try to grab for. You land in the same spot where you previously sat, the chair striking the floor with a tremendous sound, and you falling over it, landing wrong. The chair is apparently indestructible, as it's still in one piece. You, however, are not, and seem to have broken your tibia. You can see it, trying to poke out through your skin. You stare at it with curiosity, the adrenaline dulling the pain for the time being.
One of the others that you saw sitting around the table, a girl, one of two twins, exits from a portal to your side. Her jacket resembles a frilly dress, like a French maid's uniform. She carefully kneels at your side and holds your hands over you, as if trying to warm herself at a fire. You are levitated away from your position, crumpled upon the fallen chair. When you are laid safely on the floor, only your leg remains levitated, and is then mended. You feel no pain during this process, only a slight tingling. The twin disappears back to her seat.
You hear the voice of the messy-haired man ask you if that seems like reality TV to you. As for being malicious or misguided, he tells you that it doesn't work that way. The blond-haired guy continues the thought.
"We're kind of on our own out here. It's just us that run the school. We make the rules, and enforce them. We're Enforcers. That's how it is out in the real world too. Every Enforcer is part of a territory that is as large or as small as they can manage. They make their own rules and set their own punishments. Once we graduate, we go somewhere on Earth and then just manage things from there. It's only us and HQ"
HQ?
"They handle stuff like trading between currencies and making these pills. They also clean up, if we happen to make a mess. Nothing major. For example, if we say that an inter-dimensional is ready to graduate, we all sign a paper and send it off to them, and then they figure out where on Earth they can live and get them a house and a job, or something. But they don't really do anything but what Enforcers ask them to do, so we call them "Helper Quadrant" sometimes, for fun.
So, yeah, you pretty much do what you want. So can everyone else, though, so it balances out. It's like a wild west film, but in real life!"
gaijinkaiju said:

Yeah, i'l be going with more questions. what powers do i get? do the pills have different powers? Am i becoming a magical girl? These are things i need to know
One of the twins fields this one while looking down, as if it would be unseemly to look you in the eyes.
"Your powers are based on portals. Like my associate said, it's similar to weaponized space. For example, you could form a portal in the shape of a sword, and cut things by sending parts of them to another dimension. Or you could open a portal to the deepest parts of the ocean and attack with the force of the pressurized water"
The other twin chimes in, similarly:
"It's not just violence, though. You can also heal, as I did to your leg, through the subtle manipulation of forces. I levitated by opening up many millions of portals against your body, each exuding a small force of pressure. Combined, this pressure was enough to move you."
The messy-haired guy interrupts.
"And no, the pills only give you different side-effects. The guys at HQ were trying to think of a way to prevent the headaches and came up with a second variant that gave you a stomach-ache instead. Trust me, you're going to want the stomach-ache one. They had to hold me down to keep me from putting a power-drill to my head just to get away from the pain."
The blond-haired guy contradicts:
"Dude, no, the stomach-ache pill is the WORST! The whole time you're doubled over and sweating bullets. You won't be able to eat for days, just based on the
memory
of how bad it hurts. I actually tried to give myself an enema, just to see if it would help! I ended up stuck with a-
"Don't remind us. My sister still has nightmares about that. I've never
seen
so much blood."
An awkward silence, broken by the messy-haired guy, grinning.
"So, now that you're looking
forward
to it... what's it going to be?"
A) Stomach-ache
B) Headache