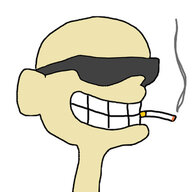 Lord Inquisitor
Sanctuary legend
Sanctuary contributor
Holy shit, did I enjoy it. I wouldn't say i'm the biggest marvel fanboy, considering I haven't seen most of the newer ones, but damn did I enjoy this one. Makes me want to go back and re-watch the entire mcu, which i might once endgame gets a dvd/blu-ray release or if they release a box-set of the series.
SPOILERS AHEAD
Where to begin?
The whole movie takes place five years after infinity war, but before the time jump Captain Marvel shows up, rescues tony and nebula. They detect Thanos using the stones, again, and head to where he's hiding. There's a brief confrontation where he reveals he used the stones to destroy the stones. Thor then decapitates him.

Cue five year jump

I was surprised how small Captain Marvels role was. She appears at the beginning, rescues tony and nebula, hangs around for like 10 minutes, then buggers off for the rest of the movie. She reappears at the end when everyone's having a go fighting Thanos, but gets punched away quickly.

Thor gets fat, and feels regret for not defeating Thanos. He's spent the time since drinking and apparently playing fortnite (I'm not kidding in the slightest)

Unsurprisingly, they use time travel to go back and retrieve the stones before Thanos gets them. Each stone was basically a flashback to previous movies, with the first avengers film getting some great extra scenes, mostly involving the hulk. There's also a great scene when Rhodes jokes about going back and strangling a baby Thanos

Captain america has a hail hydra scene, shortly before fighting past Captain America.

Thor gets mjolnir again, and proceeds to dual-wield that and stormbreaker.
Speaking of mjolnir, Captain America weilds it during the final fight with thanos

Everyone gets brought back, minus the two that got turned into soul stones.

There's a final fight where most of the main heroes get a chance to beat up on thanos.

Thor joins the guardians of the galaxy
I suck at hitting key points without just summarising but i'm trying not to just spoil the entire movie, Though I will if someone wants.
I do wonder what they'll do now that the infinity stone arc is over. Will we get another long-form arc or maybe a series of smaller ones covering 2-3 movies, kinda like the setup to the first avengers, or is it just going to be individual character movies with occasional team-ups. Do they even have another story-line they could use as a long-form story arc. I know civil got a second version, so I guess we might see that at some point