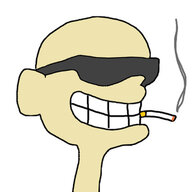 Disciple
Sanctuary legend
Game server maintainer
Yeah, wasn't sure what to title this.

So the PS5 launches in a week or two, but honestly, I just have zero interest in it. I think the pricing is ridiculous. Yeah I get better parts, means higher price, but for the same price as a PS5 I could just get a better graphics card. I'm incredibly doubtfull of the whole 60fps at 4k (I don't think anyone's actually claimed that yet, but my point still stands) especially considering how they can barely hit 60fps at 1080p now.
There are no games on it at launch that are worth getting, that can't be gotten on PS4, or evn PC
CoD Cold War? PS4/PC
Spider-Man miles morales? PS4
Okay, wow, there are even less games available that I'm actually interested in than I thought.
The only two games that are exclusive to it, god of war ragnarok and Ratchet & Clank rift apart, don't have dates yet and until they do, I have no reason to buy it.
I guess that's why they made it "backwards compatible" so it's atleast got something for people to play, but why would I use waste hdd space for PS4 games that'll barely look any different? Seriously, you'll burn through hdd space with how annoyingly large PS4 games are, and I can't imagine PS5 games will be smaller.