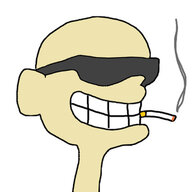 Disciple
Sanctuary legend
Game server maintainer
Yeah, not much to really say on this, its just more cod.
Story was alright nothing astounding.
Campaign starts with you (Alex) securing a chemical weapons lab. Things go ass up and terrorists attack, killing your team and taking the chems. Price gets brought in by some cia chick to help get the chems back. Terror attack in london happens and you (Kyle) end up meeting up with price. Alex ends up going to Urzikstan, and meeting Farrah and Hadir. Price and Kyle raid a London flat, has the first moral moment (you can accidentally shoot a baby). Alex, Farah and Hadir assault a hospital, capture baddie no.1 and take him back to the US embassy. Embassy comes under attack, Price and Kyle arrive, meet baddie no.2 and we get the second moral moment (open a door and possibly save two civilians but start a fight or let them die and avoid the fight). Price and Kyle meet up with the others and they flee to the embassy. Baddie no.1 ends up getting rescued. The team end up setting up an ambush. Russians show up and Hadir sets off some of the chems. Plot twist he stole them to use against the russians. He flees and Alex and Farah nearly die. Flashback to learn more about Farah and Hadir (you get to play as kid Farah),why they hate russians, we meet baddie no.3 and how they met Price. Back to modern day. You track down baddie no.1 and raid his house (felt like they drew inspiration from the bin laden raid). Alex and Farah kill him, and learn Hadir has joined the terrorists. Alex gets mad at cia and stays with Farah. Price and kyle go to russia and meet nikolai. They track down and capture baddie no.2 and we get another moral moment. You can either participate in an interrogation or not. They get Hadirs location and the fate of baddie no.2 is left for you to decide. Kyle and Price go to baddie no.3's house and meet Hadir. He reveals the location of baddie no.3's chem lab and ends up being handed over to the russians, fate unknown. The team attack the chem lab and plant bombs. Detonator gets damaged and Alex sacrifices himself while Farah sneaks onto a heli and kills baddie no.3. Roll credits.
Has some dialogue choices which I think is a first for cod, though I don't think they actually affect the story, as-well as some "branching paths" (idk what to call them) who can choose which seemingly do affect the story, albeit very slightly. Cast was alright, only has two characters that you play through (technically three, but its only for one misson) and a smaller team. None of them where particularly noteworthy; Price is Price; Alex (cia guy) is just alright; Kyle (brit cop) was the most interesting, only because it questions the morality of what they have to do to get the mission done; Farah and Hadir are just kinda the same, middle-eastern freedom fighters that hate russia, Hadir briefly ends up as a bad guy for a really meh pot twist. Gunplay was fine, its the one thing cods good at, so no complaints or praise there. Campaign ends setting up a sequel/ the spec ops mode, with Price forming taskforce 141 and mentioning Soap and Ghost.
I don't know what the multiplayers like because it required a separate 9gb download and I wasn't wasting my time. I don't know what the Spec ops mode is like because it also needed a seperate 20gb download and again I wasn't wasting my time. I think the spec ops mode serves as a continuation of the campaign because it introduces Ghost in the season 2 cinematic, but I don't know and I don't care enough to find out. My biggest complaint is the fact that I had to download a fucking 70gb "patch", despite buying a physical copy, before I could even touch the campaign and that seemingly doesn't include the multiplayer stuff.
Overall, Meh. Despite having an alright story, its unlikely I'll play it again and even less likely I'll ever touch the multiplayer modes.