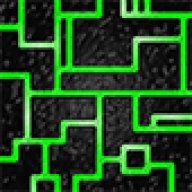 Arch Disciple
Sanctuary legend
Some hard-coded keys, like Space for accepting and more. No minimap. Camera is a little bit slow to catch up. Changing skill is annoying, as the 5 different ones are bound to 5 separate keys and no way to toggle next. Also, Dash is considered such a skill.. The money and potion slots on screen doesn't keep up with use and purchase (They don't show current possession). Background can sometimes be difficult to tell from level ground. I'd want the camera to focus on the character when fighting, not the "bullet". I've now encountered mobs behind un-dashable barriers, which means I have to keep toggling between Dash and another skill, which is annoying. Very morally preachy, and told like unto a child. Translations could be better.

Pretty linear so far, but it's an okay game.

98%'d it and had a whole lot more posted, but the review got cut in half. Let's just say that combat could have been done a whole lot better.
Can't bind to mouse. Some hard-coded keys like Ctrl. No minimap. Having to toggle map tabs to show different things is a bit of a chore and it doesn't even show level outlines, making it difficult to know where and what (you also can't place out map markers due to the weird map). Enemies respawn too quickly (I can see why though, as it gives ammo, health, and platforms). Camera is sometimes a little slow in following the character, like when you jump around. The map is irking me greatly. I now have nowhere to go left, and find myself repeatedly visiting gates I can't open because I don't have key, just because I can't mark them, and I can't progress because I can't go underwater.

Despite my previous criticism, it's actually a good game. The music, something I rarely notice, is excellent. Now, if it only wasn't for that strange map!

I 100%'d it. I think it's my second favorite Metroidvania actually.
I actually 99%'ed this one. It's basically an homage to Hollow Knight. A mini-HK if you will. Quite fun. Now on to the drawbacks.

Can't bind mouse buttons, in fact, can't rebind anything! No settings to speak of. Fixed view, can't look up/down. Can't drop down through platforms.Feels rather linear for the first 3/4 of the game. No map markers for some stuff you've seen but can't reach/haven't taken yet. Some items need better descriptions.
Can't re-bind to mouse. Attacking causes forward movement. Character control feels both floaty and weighty, strangely enough. No minimap. Character noises are annoying (in fact most characters are annoying). Camera is slow in following the character. Can't look up/down to see the lay of the land. Includes two chase/escape scene without any form of reward to speak of. Story feels like it's being told a 5 year old.

Nevertheless, once you get going, it's not bad. I 100%'d it in 8 hours, and I'm not one to rush (and that's an understatement).
A modern Retro game, seemingly disregarding modern QoL's. No binding to mouse. No modulated jump height, it's do or die. Stuck at lava-jumping section. Will probably retry again. Later.
Re-binding is possible, and to mouse, but it has some weird function where you can't remove the "second input" option, and can't have conflicting keys, so you end up having to replace the primary re-bind with a ; key and then have to type in the real key to make it primary, and then remove the ; key with a non-unique key and then type in the real key again.. The absolute fuck? F seems to be hard-coded as well. Ledge-grabbing. Background and foreground objects blend in too much with level. Separate key for interacting and another for cancelling the interaction and then another separate key for accepting! Camera is slow following the character. Assumes you have a US keyboard, and shows secondary mapped key as primary. Wow.. Can't pan camera up/down. It really likes to take control away from the player, very "cinematic". Hold to accept purchase. Unusual Healthbar. Annoying cursor on-screen. Chase/Escape Scenes. Performing an action locks you into that and must be completed before doing any other action (especially noticable when attacking and jumping). Opening the minimap often moves the focus away from your area, in the usual taking away control situation. Need to actually use/save at the toiletports to be able to 'port back to them. Aiming system sucks, but made mandatory. Timed events.

Quit at timed escape/chase spider-boss with instant death traps.. ... ...

HAAK encapsulates almost everything that is wrong with gaming today. Console ports on PC. "cinematic" storytelling taking precedence over Gameplay. Obvious QoL deficiencies. Not to mention the fact that it sells itself as a speedy and fluid Metroidvania, when it's nothing of the kind.
No binding to mouse. No minimap. Requiring perfect boss wins, being completely unharmed, to get equippable items is insane (Save points just before the boss not withstanding). Attacks can't be cancelled by other actions. Sound effects in second area are head-ache inducing. Character jumps back a bit when talking to NPC's, while can lead to jumping off platforms or out of talking range. Common mobs are too difficult with homing and area of effect attacks, also placed to interfere when attacking other mobs when they're just not popping up from nowhere or made almost invisible, not to mention attacking from off-screen(!). The traps are also bound to hurt you. Quit after opening Monastery door. Very linear up until then.
No binding to mouse, and you have to re-bind every key and in a certain order when you want to change any bind at all.. Also can't bind to Shift or Tab. Ledge-grabbing. Can't look up/down. Can't Alt-Tab out, and when you get back it's windowed. Quick-time events when "locked/frozen" by enemies. Timed events and puzzles. Spectacle Fighting combat combos and Ratings.

Ledge-grabbing slowing down movement and timed events make this not fun.
Ledge-grabbing. Stops movement completely when attacking and dodging. Difficult to see where enemy hitboxes are and how far their attacks reach, and your dodge is way too short to actually dodge both their attacks and them (especially when it lingers or they spam). Cursor constantly on-screen. Too much story interference and it often takes control away from the player. Character is way too fragile, and dies after 2-3 hits by any mob. Separate keys for looking up/down/left/right with camera.

Too rigid and slow combat and movement together with dying in a few hits from persistent damage effects and spam mobs make it no fun.
Re-binding keys and mouse is available, however, you can't ever re-bind E (well, you can, but bad things happen..), or use XButton1 or 2 because they don't trigger. There's also hard-coded keys, like for inventory and map, and map key doesn't take you out of the map window. You also climb with jump, go down platforms with double-tapping block/shield. Too souls-like, in that it requires blocking, parrying & dodging to defeat enemies, making it to slow for me. First boss have huge melee range attacks, huge health pool, and takes huge chunks of your HP in one hit. Not fun. Oh, and no difficulty levels available.
Character is zoomed out a bit too far. No minimap. Background and foreground interferes Heavily. Camera moves to fix the character at the back 2/3rds when character runs,stops,turns around, making for a dizzying ride and it also auto-zooms depending on the area and even moves up/down within an area on it's own. Hardcoded keys for accessing map, accepting some menus, and moving the camera (it's hold Ctrl and move mouse for some reason, also janky movement). Hitbox is way too sensitive/large. Too many actions involved in the menus (at stores, need to select purchase, click for dialogue, move to Yes, click to buy. In the map, need to interact with throne, press map, press fast travel, accept fast travel, etc). Skill tree assumes controller pad, and don't take up/down & left/right keyboard keys being pressed simultaneously.

The bosses are insane. Requires perfect dodging for 10 minutes to get 1 hit in. Not fun.
Not able to bind mouse buttons. Hard-coded Enter key for tutorial pop-ups and save/fast travel instead of attack key. Sluggish movement. Character in the front 2/3rds of the screen instead of the back or center. No Minimap and too small view of the large map, also makes fast travel a chore. Ledge-grabbing that interferes with fighting and breaks flow & speed, also makes it hard to judge how high/far you can jump. Annoyingly changes one-use items to newest picked up automatically. no automatic drop-collecting, and the coin, mana, stamina, disappear way too quickly. They included foreground items that occasionally occlude vision, and the background blends in too much with the level, sometimes making it difficult to see where platforms begin/end. Being made for blocking and dodging, the ranged mobs tells are too quick for jumping away. Pyramid level is a huge confusing maze in which you'll get stuck several times having no idea where to go and dying to bosses and mobs over and over. Can't double-jump when falling down or after a wall-jump. Saving the game makes it extremely laggy for 2-3 seconds.
I managed to get past the pixel-perfect platform boss of the Pyramid. It's playable, but it doesn't get better. In fact, you need to be perfect in both platforming, with an offset character hitbox, and juggling double-jumps and dash's, but you can't double-jump after a dash, even if you didn't jump, or only jumped once. Also, you need to be perfect in timing the super-fast boss attacks, deciding whether to duck,dodge/roll,block/shield, or jump, at any given millisecond. And this is after they've "nerfed" it. I'm playing on Scout btw. The easiest difficulty. I'm now stuck racing Euder and in the Fire Temple. Oh, and prepare to orb-swap powers constantly after Floating Module. Annoying.
Not able to bind mouse. Sluggish movement. Attack delay. No minimap. Doesn't hide the cursor. Too many cut-scenes. Background blends in too much with the platforms/walls. Not a fan of character swapping. Starting back at the very first room on every death is an annoying chore. And it just became too annoying.
Chromatic Abberation can't be toggled off and causes headaches after a while, since everything is just slightly so ever blurry. No minimap. Mouse cursor not locked to screen and borderless/full screen doesn't matter. Uses a separate key to interact, instead of typical Up/Down. Saving requires 2 actions separated with a delay. Bosses are annoying bullet sponges and much harder than their given area. Ranged combat requires automatic (no manual) reloading when the clip is empty, usually at the most awkward and inconvenient times, and it's the only form of attack we have. Up until area 6 there's been no metroidvania at all, just a linear platform adventure. Also quit here, the boss is too hard. Not a fan of the character swapping needed either.
While a few things are better than in Rogue Legacy 1, like being able binding mouse4 and 5, they also introduced a whole lot of worse things. Now you pogo-jump by a dedicated button/down and jump. That's right, not attack, jump.. They also increased the difficulty ten-fold. Starting area has one-time collapsing platforms and rotating spinner traps while also having to dodge 3-4 ranged mob attacks.. They added souls, bars, and blood as ..currency?, on top of money. Double-jump is now only available from area 3! Facing cursor could be good, though I don't use it, but I'm not able to hide it and it's distracting. The small in-area teleporters don't always tell you where they go, and you can easily lose your way. They removed being able to talk to chars and open chests with up-key. You now have a dedicated button for it.. Some screens can only be exited by Escape, having you move your hand away from WASD.
Necrosmith seems like a Real-Time with Pause "-lite" take on the HoMM and AoW games, and has a few good gameplay mechanics like assembling parts for units (a la Impossible Creatures), but they also have some bad ones like only being able to control one of the units at a time. The rest are just wandering around the overmap triggering waves of enemies. In fact, what you'll noticed when playing right away is that you feel like you have to fight against the game. Be it camera, controls, UI, time, AI, etc. If they polish it right it could be good, but since it's considered finished (Not in EA), I don't know how long the support will last. They are doing a AI/control update for the next patch right now, but for the future, who knows.
Last edited: