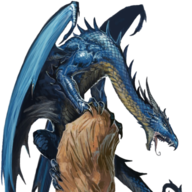 Veteran
Staff member
Founder
Also, there may be special prizes as well for this one since we've proved that running a tabletop game on a forum is viable.

Keep in mind that this is a suggestion thread, not a sign up thread. Sign up thread will be coming shortly after we get an idea of what everyone wants. There isn't really a right or wrong answer. Both systems have equal pros and cons to them. For those who don't know the difference between D&D 5E and Pathfinder though:

D&D Fifth Edition: What we were running before. Uses a simpler and less verbose system which is more DM-dependent than Pathfinder. Besides combat, anything more exotic than simple easy actions requires a quick check at the DM's discretion, but the checks are easy and intuitive.

Pathfinder: Much more complicated style of D&D. There's a lot more class options and variety but also much more reliance on written rules. The complication absolutely gives more options but more to wade through for both the DM and the player.